Finally I started assembling the first two squares for my Cross Stitch Quilt. It took about three years to find the perfect technique how to do this. I was looking for a way to finish each square separately, so that the quilt will be finished always and never. Now I´m really happy how it comes along.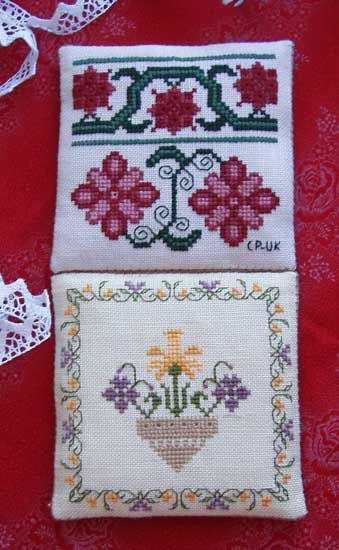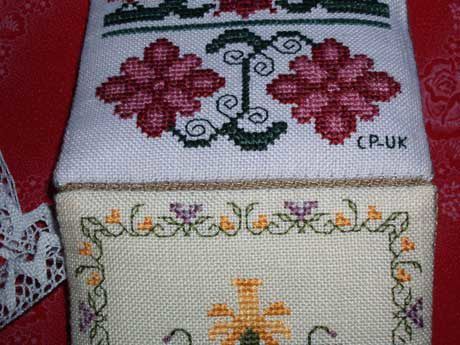 After I started collecting the cross stitch squares, I thought it would have been nice too, to do a quilt only in monochrome colours. But I think there is only time for one quilt in a life :-)!! When I started the finishing of the backside, I had an idea. I´m writing the name, year and location of every stitcher in backstitch on the back. For the squares stitched by myself, I´ll stitch something like the year or my initiales only in ecru colours. It´s a little a time consuming way of finishing, but I love how it comes along. Now the quilt will become reversible, and I think it´s worth the time to become a heirloom piece.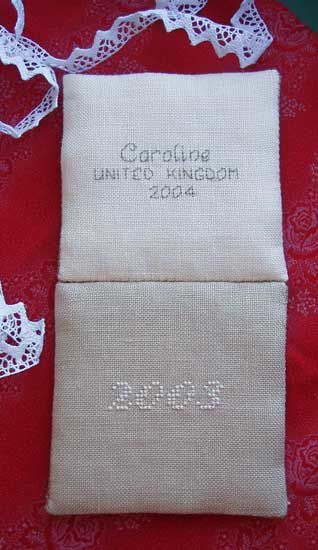 I´m looking forward to future exchanges, to get more squares for the quilt!!
Because you asked, I´ll try to explain how I join the squares. First, all the squares are stitched on the same stitchcount (32 count linen). I´m doing a backstitch border with Perl cotton #12 all around the design over 4 threads. The same backstitch border on a second piece of linen. Inside the backstitch borders I iron on a piece of fusible batting. Then I fingerpress the linen at the backstitch and wipstitch the two pieces of linen together. (with Perl cotton #12). So one square is finished. After I finish a second square in the same manner, I wipstitch them together going only through the perlcotton border.
Sorry, I´m really not good in writing instruction :-). Will try to take pictures when I´ll finish the next square.