Traditional Austrian cross stitch
Today I want to show you a piece of traditional Austrian cross stitch.
In 1887 in my little hometown there was opened a school for homeindustrie, where young women were thought in needlework. Especially for embroider table clothes, curtains,............This school existed till about 1950 in our region.
The goal of the school was to learn a kind of cross stitch, which we call in dialect Ebenseer-cross stitch. The stitches on the back all have to go in vertical directions. Here are pictures of the front and the back of a tablecloth.
front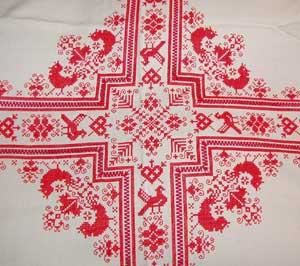 back