Happy New Year!!!
Ein glückliches Neues Jahr!!!
A new year, a new game, a new WIP??? :-) !!!
After a wonderful night of celebrations the New Year, I think it´s time to set some stitching goals for 2006!!
At the end of December I had 18 WIPs. I think now it´s time to set some priorities in my stitching time. Maybe it´s a good way to select 3, 4 or 5 different WIPs and make progress on them. So I always have a WIP to work on which I´m really in the mood to make progress.
I´m thinking of a stitching small like a needlwork accessoir piece, a big sampler, one of the Chatelaine designs, a piece with specialty stitches and maybe a small project or a small sampler when I need a quick finish.
So I chose for the big sampler the English Band Sampler. Here´s my progress till December 2005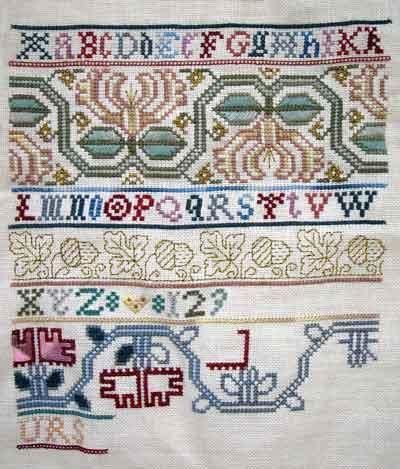 For the needlework accessoir piece I chose the My Beekeeper pocket. I´m close to the end of finishing the stitching and I´m looking forward to follow Jackies wonderful finishing instructions.
For the specialty stitches project I´ll do progress on the Indigo Rose Catherine Agnes. And for the Chatelaine project - .......today I started the Mystery IX during watching the New Years Concert Vienna. It really was a wonderful way to celebrate the first day of the New Year :-)!!! So 19 WIPs at the 1th of January 2006!!
Maybe soon I´ll start a small sampler for the quick finished project!!
Let´s see how this all will work :-)!!!!!!