Dear Stitching Friends,

You didn´t hear of me for so long time!! I'm so sorry about this!!

I didn't do any stitching and I wasn't on the computer for a long time, so my blog hasn't been updatet.

I got a lot of nice emails, and I thought I'll answer them when I'll get more time, but my computer has broken down, and so I lost all my emails and all the email addresses of my friends, so please forgive me for not answering! But now my computer works again and my addresses are the same, so if you want to send me a message I would love to hear from you!!

But now I little update on the last months.

My Austrian Sampler hasn't grown very much, but today I pulled it out, and I really want to finish it soon. I'm just in the mood of stitching, and I really would love to start another of my beloved EEF designs.
But I really want to finish first my Austrian Sampler. I got some offers for publish it, it's charted, but first I want finish the stitching by myself. Maybe that's stupid, but I'm "pregnant" with this sampler for years. So I want to be sure, that I will be satisfied how it will look like when it will be really, really finished. A little crazy, isn't it.

I saw on the counter that so much are still visiting my blog!! Thank your for this!!

As a little present I want to give you a very little spot from my Austrian sampler as a freebie. Maybe some of you are remembering the Easter Eggs, I did some time ago???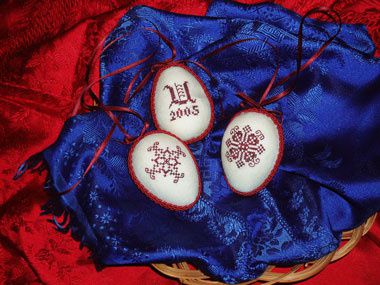 That's one of the reasons that I love these spots, they are so useful for little gifts, and there are so much ways to use them, on pinkeeps, or pincushions, or ........ or maybe Easter Eggs :-))!!

So happy Easter Dear Ladies!!! I would love to hear from you!!

You can see this spot, stitched on the first picture, it's on the egg on the right side! Hope you will like it!!