Today a little update on my stitching!

I did a little progress on Three Pink Houses by Ewe&Eye&Friends, I'm doing in the EEF SAL. I really like how it comes along and I really like this SAL with so much great stitchers. So I'm just thinking of which EEF design to start next.

Next week I'll get back my Austrian Sampler from the framer.I'm looking forward to this. After my family saw the sampler finished, they started to motivate me to publish it. They continuously ask me if I finally have charted it. It's almost charted, but only for my personal use. But now I finally painted an alphabete for personalizing it, and now I have to write the instructions. Not really my favourite work. And at the moment I'm a little lazy in doing this. I love to stitch and I love to design, but only when I'm really in the mood to do this.

At the moment I'm more in the mood to start new things. Maybe some of you know this. My little DD asked me to create a sampler especially for her, and as there are lot of ideas in my head I started to do this. I want to design a little coloured sampler. I'm thinking of maybe stitching with Old Willow threads. I like their muted colours and it looks like I have some of them in my stash, hopefully there are the right colours. Maybe I'll combine them with DMC. Have to try this.

And I started a new WIP. I started Bo-Peep by La -D -Da. I always likeed this design, and I had it in my stash for a long time. I'm working on 40 count linen and here's a picture of my start.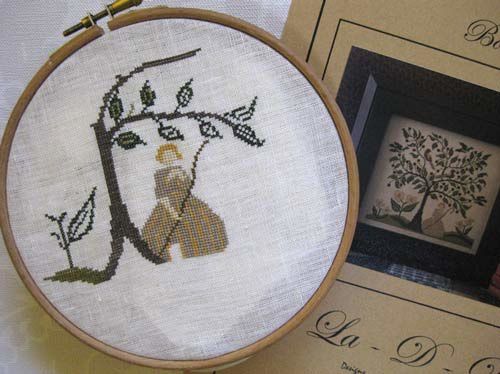 And I finished the Mary Beale Sheperdess. It's stitched on 36 count flax linen with DMC threads. For the year I added the year when I was born, and I was totally horrified when I realized that I'll become 50 next year. Really unbelievably!!!!
I just was 40 a few time ago and was feeling like 30. Now I'll become 50 and I'm still feeling like 30. Time really flys. Now I have to decide how to finish it.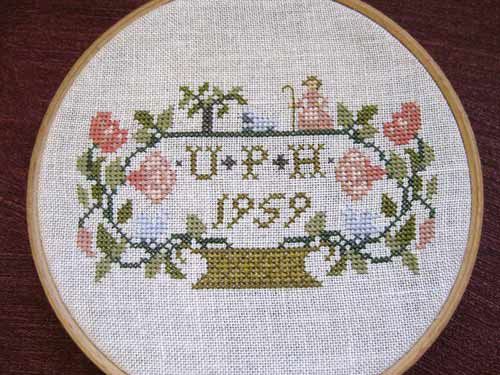 But it looks like I'm not really in the mood for finishing.
As I told you, I'm more in the mood of a new start. Maybe a Blackbird Design???? I have some in my stash but never stitched one of them. Maybe I'll show you another newstart soon.

Wish you all a great weekend!!