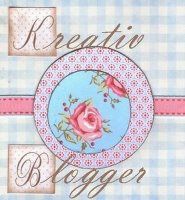 Some days ago I got this lovely award from Stefanie ! Thank you for this surprise!!

Now I pass it on with the following rules:
1. The winner may put the logo on her blog.
2. Put a link to the person you got the award from.
3. Nominate five blogs.
4. Put links to the blogs.
5. Leave a message for your nominates.

The absolutely hardest part is to nominate only five blogs. There are at least 20 I love and I'm visiting almost every day!



But now I pass the award to:

Deb
Tempus Fugit
Gigi
Su
Dany