I have to admit that I absolutely love viewing progress pictures of my designs.
May I show you here a beautiful finish and some progress pictures of the Austrian Spot Sampler?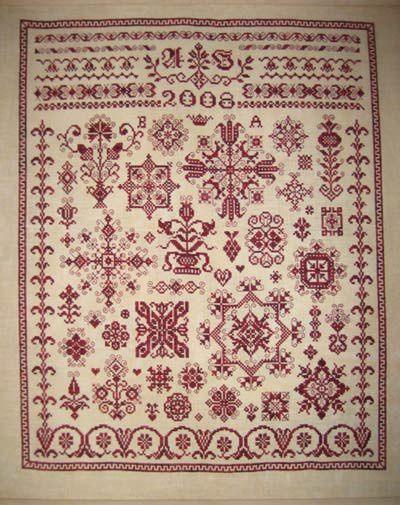 Just I received a picture of Bhooma's gorgeous finished Austrian Spot Sampler.
Wasn't that fast?? The chart has been published only a few weeks ago, so Bhooma has finished it in this short time!
Congratulation on your finish Bhooma!

It's stitched with Vikki Clayton Hand Dyed silks on 36count Sassy's Hay Fields linen.
That's really a great color combination and looks gorgeous!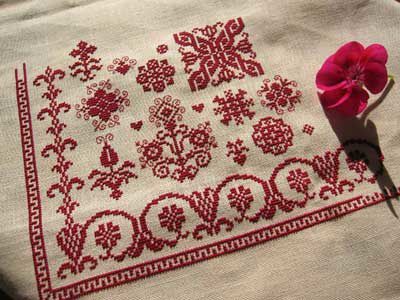 Here's a progress picture Asta in
Lithuania sent to me.
She's stitching on 32 count creme Belfast linen with Madeira floss and it looks gorgeous too. I really love watching her progress on her blog




















And here's something really special!
Can you believe, Fudgey in Australia is stitching the sampler on 50 count linen!!!!!!

Never in my life I would be able to stitch on 50 count linen. I really can't image how she's able to see the different threads, I'm really absolutely admiring her work.

I'm sure the sampler will look absolutely exquisite stitched on this high count!!

I also love the colors she's using, she's stitching with Vikki Clayton hand dyed silks in rosé and is stitching the small motives with random solid colors of the same color range.
That's a wonderful idea!!