Arm Chair Pin Keep Progress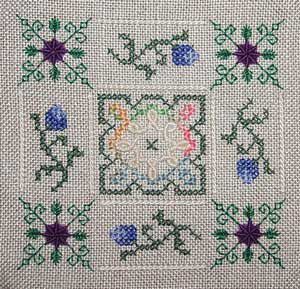 Today I finished the top of the Indigo Rose Arm Chair Pin Keep. ItŽs really funny and fast to stitch. Now will come the one over one part. Maybe this will take a little longer.
I like this Spider Webs, they look very special. And that it is what I like so much on Catherine Stricklers designs, they always have some speciality stitches and looks very special - and - they are quick to stitch.
Just looked through my stash, and I found a lot of Indigo Rose Samplers. Unfortunately I never stitched one of them??!! I really have to start one of them. But maybe itŽs better to finish one of my WIPs first, before I think about a new start!
I found the Bead Blanket Sampler too. This was another online class I joined, but never started. Maybe IŽll start this soon. But first - at least - one finish!!!