This days the ladies of the "Stitching Smalls" group remembered me of the My Beekeeper online class from Elegant Stitch. http://www.elegantstitch.com/shop%20classes.htm
The class is designed and taught by Jackie du Plessis of It´s Fine-ally Finished. http://www.itsfineallyfinished.com/ So I know, I can learn a lot of finishing during the class. It will take place next week, so I pulled it out to catch up with the stitching.
But now my long/bad Beekeeper Story!
The whole design is stitched with repeated pinwheels. I´m not really a fan of repeated patterns, so when I started the stitching some weeks ago, I tried to change this, and I stitched only the boarder and wanted to fill the other area with a BN one over one stitching.
Now Jackie motivated me to stitch the original design because of the honeycomb look of the pinwheels - hence the Bee Keeper title. And I think there will come out additional pieces.
So I overcame to rip the one over one stitching. If some of you ever tried to rip one over one, you know that this took some hours :-(. When I wanted to rip the last few stitches, I cut one of the linen threads too :-)!!!!!!!!!!!! I really was in the mood to cry!!!!!!!!!!!!!!!!
But I tried to repair this, and it worked. Yesterday I stitched the whole evening on it and put a lot of the pinwheels into. Slowly I got the rhythm, and I really got very happy with it. When I wanted to go to bed and looked a last time on it (and took a closer look to the instructions), I saw..................that the center of the pinwheels should have stitched with straight stitches two over two!! And I filled them with Satin Stitches.
Maybe this project don´t like me???!!!
What shall I do now? I can´t rip it out, because I would have to rip all my stitching. So I should restart it. But now, maybe I would have not enough of the silks!
I think I will continue with the stitching, and will call it a personal adaption??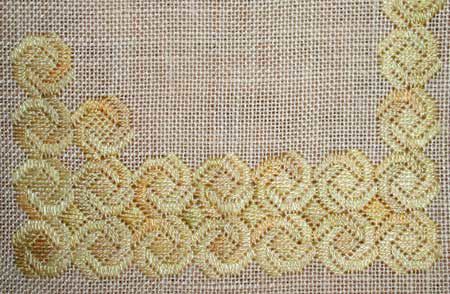 I tried one of the pinwheels with the correct stitching. (It´s the right one). I did all of them like the left one.
What do you think?? Shall I restart or shall I continue stitching??