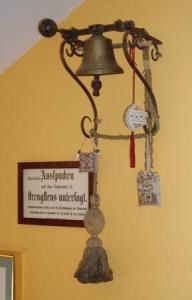 I just found a perfect place to display the ornaments I got in exchanges. I started to hang them on a bell in our floor near the door to our living room, and it really looks lovely. And so I always see them and are remembering on my stitching friends.
And now I became motivated to stitch some more by myself. I started Lizzie Kate "Cross Stitcher in Residence". I changed all the colours and will stitch with Vikki Clayton silks from my stash. I have to look for colours which will go with the edging which I want to use for the finishing.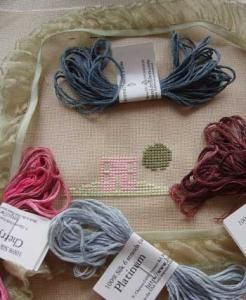 Usually I´m not really a great LK lover, but I like how this little design comes along. And how fast the stitching goes. Maybe I´ll become a LK fan too :-)!
The only LK design I ever stitched was, " Life´s a Stitch" which I want to use for my cross stitch friendship quilt. By the way, I really have to reactivate my cross stitch quilt project. I have so many wonderful squares collected from my stitching friends. And I really should display them in a quilt!!