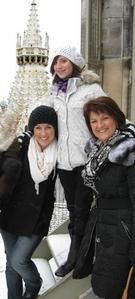 I just came home from our annual trip to Vienna.
Every year I spend a long "girls weekend" with my two daughters in Vienna.

I love those days! We always have fine dinners, go to theatres and museums and certainly do a lot of shopping.



Here are some impressions of these eventfull days.
On the picture we are on the top of one of the towers of St. Stephen's Cathedrale, where you have a wonderful view over the city of Vienna.

And there's also an inside view of St. Stephen's Cathedrale and my two daughters infront of it.

We always have so much fun and I'm already looking forward to the next "girls weekend"!